I just got this warning from Netflix: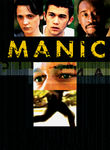 Manic
could not be added to your DVD Queue, because you have reached the queue limit of 500 movies. If you wish to add this movie, you must first remove movies from your queue.
Genius! I love that.
I will never ever ever watch everything in my queue. I will certainly die first.
This is so amusing.
So I have to dump some stuff out because I really want to watch Manic. The InStyle article with Joseph Gordon-Levitt quotes him as saying it has "one of the best kissing scenes ever on film" or something like that.
Must. Watch. Soon.